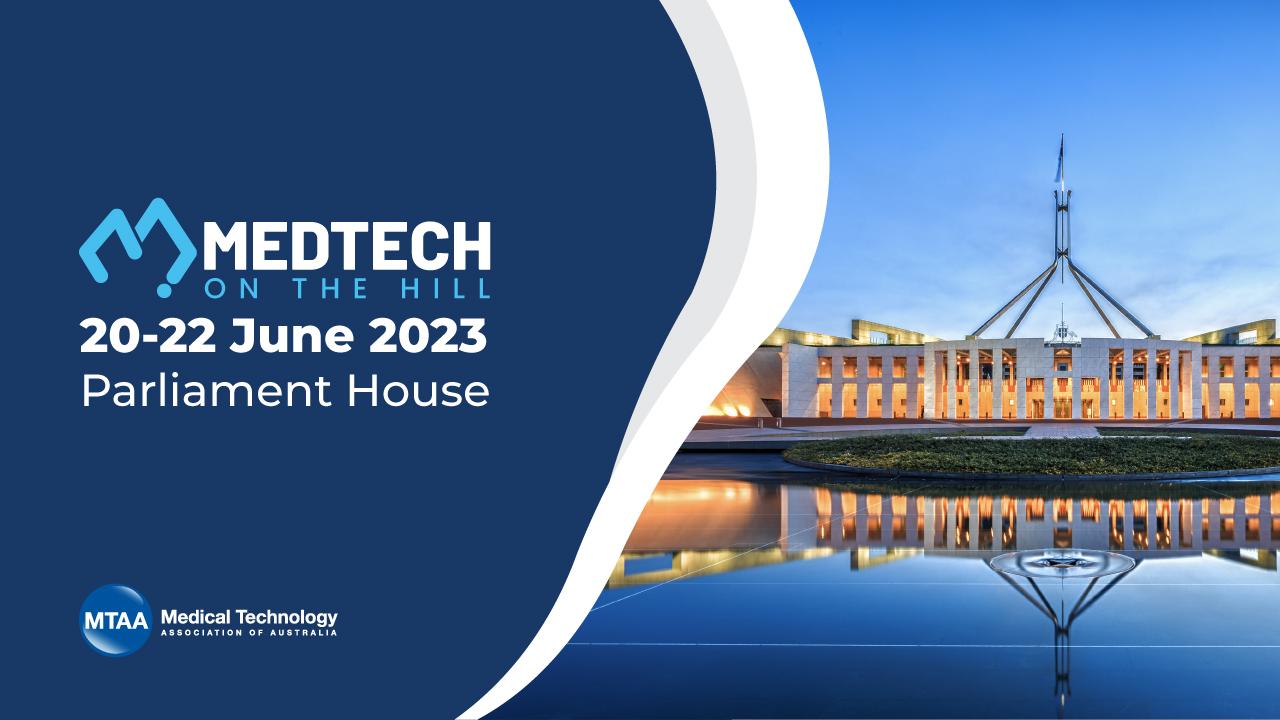 MedTech on the Hill Delegation and Event
8:00am Tuesday, 20 June 2023
4:00pm Thursday, 22 June 2023
Parliament House
Parliament Dr
Canberra
,
Australian Capital Territory
2600
Australia
Members-only Delegation
MTAA invites members to join the 2023 MedTech on the Hill delegation to Parliament House, Canberra from Tuesday, 20 June to Thursday, 22 June 2023. The 3-day roadshow will give members the opportunity to meet with MPs, senators and senior public servants to promote the release of MTAA's 'Value of MedTech Report' and also advocate for our policy priorities. The Value of MedTech launch (20 June, 5pm - 7pm) is a members-only event and scheduled meetings are invite-only - please check the program below for more details.
Choose your Registration type
The Value of MedTech Report Launch is open to all members to register. All scheduled meetings are 'invite only'. NOTE: Fees partially cover event costs, including invited guests, patients and MPs/Senators.
Five registration types are available to suit members' interests and commitments:
---
3-Day Schedule
Tuesday, 20 June 2023 | Breakfast Briefing and APH Meetings
7:00am - 5:00pm | Member invite-only
Briefing breakfast at QT Hotel followed by a series of group meetings with MPs and Senators at Parliament House. During the lunch break, the MTAA Board (some of whom will probably be in delegation groups) will have lunch with the Speaker of the House of Representatives at his office.
Click here to view registration options.
Tuesday, 20 June 2023 | Value of MedTech Report Launch
5:00pm - 7:00pm | Open to all members and associates
The evening is themed on the MTAA Value of MedTech Report - a major economic study of MedTech in Australia, providing a robust baseline for the MedTech community, measuring the growth opportunities in the future. The Report will be launched by the Hon Mark Butler, Minister for Health and Aged Care, bringing to light the significant social and economic value that MedTech provides Australia.
The evening will also provide opportunities to hear from patient voices who have had their lives changed thanks to MedTech, including displays of new and innovative medical devices for attendees to interact with and take photos of themselves using. 
Click here to register for only this event.
Wednesday, 21 June 2023 | APH Meetings
9:00am - 5:00pm | Member invite-only
Meetings with MPs, Senators and senior ministerial staff.
Click here to view registration options.
Thursday, 22 June 2023 | Departmental Meeting
9:00am - 3:30pm | Member invite-only
Departmental meetings will consist of short addresses, followed by Q&A sessions, with senior officials from government departments, including the Department of Health, the TGA and the Department of Industry. Click here to view registration options.
---
1 June 2023 Update: Full delegation and APH Meetings are now sold out. For registration queries, please contact mtaa@mtaa.org.au or call 02 9900 0600.
Additional Information
Bring your ID: Registration must match your ID. Visitors to event areas must present appropriate photo identification - physical IDs or digital drivers licence via Service NSW app accepted. Photographs of IDs will not be accepted. 
Invite-only: MedTech on the Hill is member-exclusive. Scheduled meetings are available for invited guests by MTAA.
Contact: For all event queries including activities at MedTech on the Hill, please contact Penny Fischer at pfischer@mtaa.org.au and 02 9900 0600.