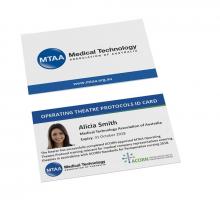 Replacement Operating Theatre Protocols ID Card
All successful completions of MTAA Operating Theatre Protocols training modules will receive an ID Card.
If your card is lost, stolen, you change your name/company or you just don't like your photo we can send you a new one!
Please make sure your best picture is attached to your BIO on your MTAA portal or email a photo to pd@mtaa.org.au. 
Availability:
Usually ships in 2-3 days.