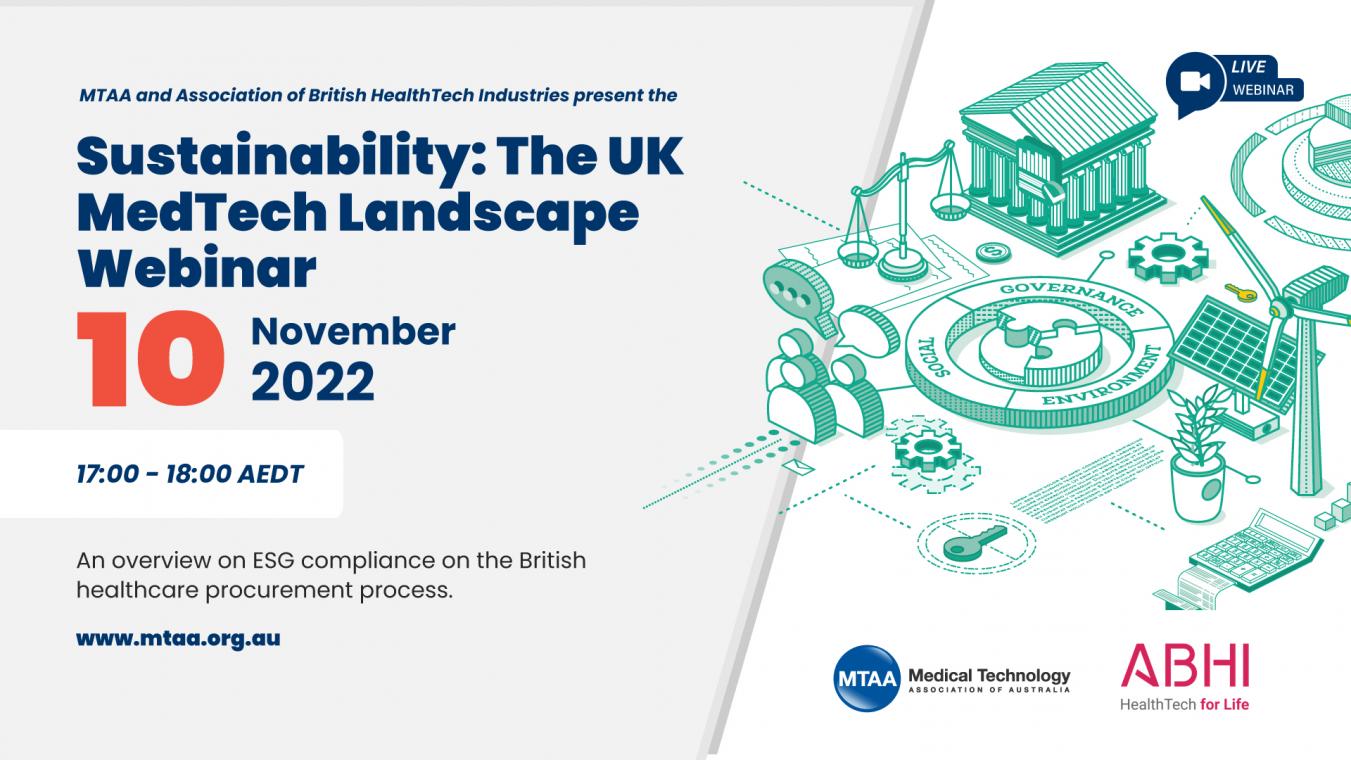 Recording of Sustainability: The UK MedTech Landscape Webinar
Access to the recording for the MTAA: Sustainability: The UK MedTech Landscape Webinar with the Association of British HealthTech Industries (ABHI) on 10 November 2022 5pm-6pm AEDT. 
MTAA organised an introductory webinar describing the impact of sustainability measures on the MedTech industry in the UK. The intention of this session is to provide Australian companies with insights from the UK market on what is a critical topic of rising global importance. The Association of British HealthTech Industries (ABHI), the UK's MedTech Trade Association, presented on sustainability requirements in relation to healthcare procurement in the UK, highlighting how companies are navigating these processes.
The webinar ran online via Zoom on Thursday 10 November 2022 from 17:00 to 18:00 AEDT.
---
Content
NHS requirements and how suppliers are responding
Challenges ABHI members are facing in relation to the new NHS sustainability measures
How is ABHI supporting its members
ABHI's stakeholder engagement in tackling this agenda
Who should attend? 
Members with an interest in understanding how sustainability measures are being adopted across the medical technology sector.
How much does it cost? 
Free for members and non-members. Registration is required on the link below.
---
Speakers
Addie MacGregor, Sustainability Executive @Association of British HealthTech Industries (ABHI)

 After studying Philosophy and Management at the University of Leeds, Addie undertook a Masters in Sustainability and Management at   Royal Holloway. In becoming ABHI's first Sustainability Executive, Addie will lead the Association's work on this critical agenda,   providing support to the membership and working with stakeholders to ensure the role of sustainability within HealthTech is recognised.   ABHI has also produced a Sustainability Framework for Action, developed to aid ABHI members with their own sustainability journey.

Luella Trickett, Director, Value & Access @Association of British HealthTech Industries (ABHI)

 Luella joined ABHI in 2019, with over 25 years' experience in the pharmaceutical and HealthTech industries. Her career has seen her   hold numerous specialist manufacturing and commercial roles at Baxter Healthcare, with responsibility for a range of product portfolios   across the HealthTech spectrum within the UK, Europe, Middle East and Africa. In 2012, Luella was seconded to the Department of   Health for nine months as the Industry Liaison for the NHS Procurement Review, a role which saw her engage with government and   the wider Life Sciences sector to facilitate the sharing of ideas and best practice. From 2015, Luella led Baxter Healthcare's   Government Affairs and Public Policy agenda, where she was tasked with managing key policies impacting the HealthTech sector and   the NHS - supporting change that enabled the adoption and spread of innovations that deliver whole-system value across healthcare   settings.

Host

Pravin Siriwardena, Policy Manager @Medical Technology Association of Australia (MTAA)
Additional Information
Changes & cancellations
Click here to view the MTAA Events and Facilitated Training Terms and Conditions.
Tax invoice
You will be emailed a paid tax invoice once payment is complete. A copy of all your transactions are also available in your Transaction History tab on your My MTAA Account and can be viewed here anytime.