Download MTAA Clinical Staff Education PDF
A new legislation came into effect on 26 October 2017 that required patient information materials to be supplied with implantable and active implantable medical devices in Australia.  
Patient information materials consist of 
Patient Information Leaflet (PIL)
Patient Implant Card (PIC)
Patient information materials assist patients to:
Understand the medical device being implanted
Have informed consent conversations
Report any adverse events with their implanted medical device 
The implementation timeline for patient information materials is as per the table below.  From 1 December 2021 however, all implantable medical devices, other than those that are excluded, are required to have patient information materials.  For more information on devices in scope and excluded items, please visit https://www.tga.gov.au/resource/medical-device-patient-information-leaflets-and-implant-cards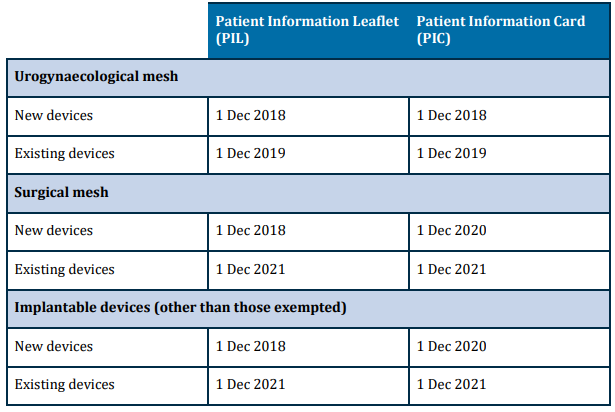 Manufacturers/Suppliers can provide patient information materials in several ways including hard copy and electronic.
Download MTAA Clinical Staff Education PDF
MTAA has collaborated closely with hospital groups and developed an education program for clinical staff (see below).  If you need any further information, please contact Jasjit Baveja on jbaveja@mtaa.org.au