Clinical trials for medical devices
Clinical trials, also referred to as clinical investigations or clinical studies, are systematic investigations in one or more human subjects, undertaken to assess the clinical performance, effectiveness or safety of a medical device (definition from international standard ISO 14155 Clinical investigation of medical devices for human subjects -- Good clinical practice). 
MTPConnect's report Clinical Trials in Australia: the economic profile and competitive position of the sector is the first comprehensive overview of the entire clinical trials landscape in Australia. Produced in collaboration with L.E.K. Consulting and funded by the Australian Government under the Industry Growth Centre Initiative, this report includes input from a range of sector participants and stakeholders. 
Clinical trials are an integral part of the research and development of new treatments, interventions or tests, and the refinement of existing standards of care and clinical practices. As such, they are vital to the future of global healthcare.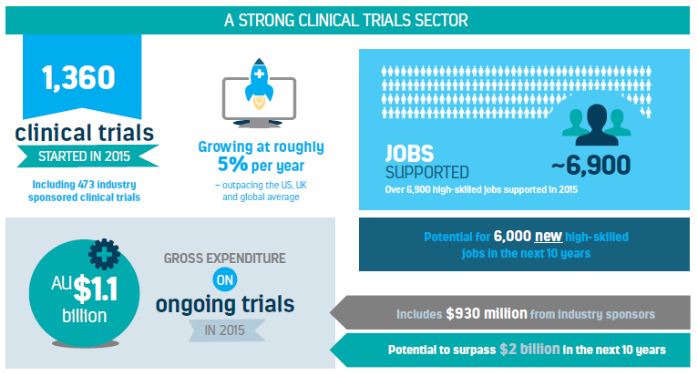 MTAA is a member of the Research and Development Task Force (RDTF), together with Medicines Australia and AusBiotech. MTAA participates in the Clinical Trials Collaborative Forum and the CT:IQ.  
MTAA supports a nationally harmonized framework for conducting clinical trials in Australia and the establishing of a national coordinating body for clinical trials (refer to MTAA position paper titled Proposed model for an Australian Coordinating Body for Clinical Trials).
We believe that information about interventional clinical trials conducted in Australia should be captured in one place (I.e., one "source of truth") and this should be the Australia New Zealand Clinical Trials Registry (refer to the MTAA position paper titled Review of the ANZ Clinical Trials Registry).
MTAA Forms and Templates
In cooperation with the Victorian Managed Insurance Authority, New South Wales Health, and Queensland Health, MTAA has developed a dedicated clinical investigation agreement for commercially sponsored clinical studies. The investigation agreement and associated forms have been based on similar documentation developed by Medicines Australia. 
The agreement, forms of indemnity and compensation guidelines are available:
Clinical Investigation Research Agreements (CIRAs) for Clinical Research Organisations (CROs) will be made available soon. There are no specific CIRAs for Collaborative/Research Groups (CRGs) being developed at this time. 
Transitional Arrangements
Companies and other sponsors of clinical trials may start to use the updated CIRA templates from 1 July 2017. 
There is no need to revise the CIRA for any clinical trial which has already been submitted to an HREC for review, or for any clinical trial that has commenced. 
Between 1 July 2017 and 30 September 2017 companies and other sponsors of clinical trials may choose to either use the current versions of the CIRA templates or newly-released versions for clinical trial projects. Both are acceptable. 
For all new clinical trials for which submissions to HRECs will be made on or after 1 October 2017, the new CIRA templates must be used. 
In relation to any amendments to the template CIRAs that have previously been approved by the SEBS for inclusion in Schedule 7, these amendment clauses do not need to be re-approved. This includes if there is a change to the number of the relevant clause – companies and other sponsors may simply change the numbering as required, retaining the same wording as previously approved by the SEBS committee. 
The agreements are made available as unlocked MS Word Documents. In using the standard CIRAs note in particular that: "Any textual change to the body of this Agreement is to be ignored, and reference instead had to the standard form, as amended by Schedule 7 by way of Special Conditions". 
Once updated, the previous versions of the CIRA templates will be archived and can be accessed here. 
Clinical Trials regulatory framework
TGA has published the Australian clinical trials handbook, a guidance on conducting clinical trials in Australia using unapproved therapeutic goods. The handbook includes tables that summarize the clinical trial phases for medicines and biologicals: Phase 0, I, II, III and IV; and the clinical trials stages for medical devices: pre-market pilot, pre-market pivotal and post-market.   
Pre-market pilot studies are exploratory investigations to determine preliminary safety and performance information to plan design modifications or provide support for a future pivotal study; they include:
Early feasibility studies are limited clinical investigations during early device development, typically before the device design has been finalized. 

First-in-human (FIH) studies are a type of study in which a device for a specific indication is evaluated for the first time in human subjects. 

Traditional feasibility studies are clinical investigations used to capture preliminary safety and effectiveness information on a near-final or final device design to adequately plan an appropriate pivotal study. A traditional feasibility study does not necessarily need to be preceded by an early feasibility study.
Pre-market pivotal studies are confirmatory investigations to evaluate performance and safety for a specified intended use to satisfy pre-market regulatory requirements. 
Post-market studies are confirmatory investigations to establish performance and safety, for example, in broader populations; or observational investigations or surveillance to gain better understanding of device safety, long-term outcomes, health economics. 
The Australian clinical trials handbook describes the two schemes under which clinical trials involving 'unapproved' therapeutic goods may be conducted in Australia: 
Clinical Trial Notification (CTN) scheme 

Clinical Trial Exemption (CTX) scheme 
Clinical trials that do not involve the use of 'unapproved' therapeutic goods are not subject to the requirements of the CTN and CTX schemes. 
Post-market clinical studies, which represents a significant proportion of the sponsor-initiated clinical studies for medical devices performed in Australia, are confirmatory investigations to establish performance and safety, for example, in broader populations, or observational investigations to gain better understanding of device safety, long-term outcomes and health economics.
Advertising of clinical trials
Advertising 'unapproved' therapeutic goods It is an offence to advertise any therapeutic good that has not been included in the ARTG under the Therapeutic Goods Act 1989 (section 42DL(1)). While the trial sponsor would be able to promote their trial in the public domain, they could not specifically mention the name of the therapeutic good being used in the trial. Section 42DL(1) also notes a person may not publish or broadcast an advertisement about therapeutic goods that contains a prohibited or restricted representation , or that contains a statement referring to goods, or substances or preparations containing goods, included in Schedule 3, 4 or 8 to the current Poisons Standard. An 'advertisement', in relation to therapeutic goods, includes any statement, pictorial representation or design, however made, that is intended, whether directly or indirectly, to promote the use or supply of the goods. A person must not make a claim that they can arrange the supply of goods not in the ARTG (Section 22(6), 32BJ(4)(a) and 41MM of the Therapeutic Goods Act 1989). Any advertisement for a clinical trial should be approved by the HREC reviewing the trial as specified under section 5.2.23 of the National Statement and section 4.4.1 of the Guideline for Good Clinical Practice. See Regulation of therapeutic goods advertising in Australia for an outline of the requirements for advertising therapeutic goods.  (Source: Australian clinical trial handbook)