Women in MedTech Awards
MTAA introduced the Women in MedTech Awards in 2017. The Awards are presented to an individual and a company who has been a leader in advancing or achieved a significant result in the WiMT Mission or Goals within their company or the industry.
The Women in MedTech (WiMT) mission is to "lead the debate and promote the benefits of gender diversity in the workplace and within the Medtech Industry". We aspire to actively support women entering or advancing within our industry.
---
2023 Winners
| | | | | |
| --- | --- | --- | --- | --- |
| WiMT Champion Company Award Winner: Stryker |   | WiMT Emerging Women in Leadership Award Winner: Kate King, Medtronic Australasia |   | WiMT Champion Individual Award Winner: Dr Katharina Richte, RIBU Plasma & The University of Adelaide |
2022 Winners
| | | | | |
| --- | --- | --- | --- | --- |
| WiMT Champion Company Award Winner: Medtronic Australasia |   | WiMT Emerging Women in Leadership Award Winner: Charlotte Taylor, Stryker |   | WiMT Champion Individual Award Winner: Lucimar Nielsen, BD |
2021 Winners
| | | | | |
| --- | --- | --- | --- | --- |
| WiMT Champion Company Award Winner: Baxter Healthcare |   | WiMT Emerging Women in Leadership Award Winner: Fiona Lim, Medtronic Australasia |   | WiMT Champion Individual Award Winner: Emma Press, Medtronic |
2020 winners
| | | | | |
| --- | --- | --- | --- | --- |
| WiMT Champion Company Award Winner: Medtronic Australasia |   | WiMT Emerging Women in Leadership Award Winner: Jee May, Fresenius Kabi Australia |   | WiMT Champion Individual Award Winner: Yolanda Mallouhi, Edwards Lifesciences |
---
2019 Winners
WiMT Champion Individual Award Winner: Steven Flynn, Baxter Healthcare
WiMT Champion Company Award Winner: Baxter Healthcare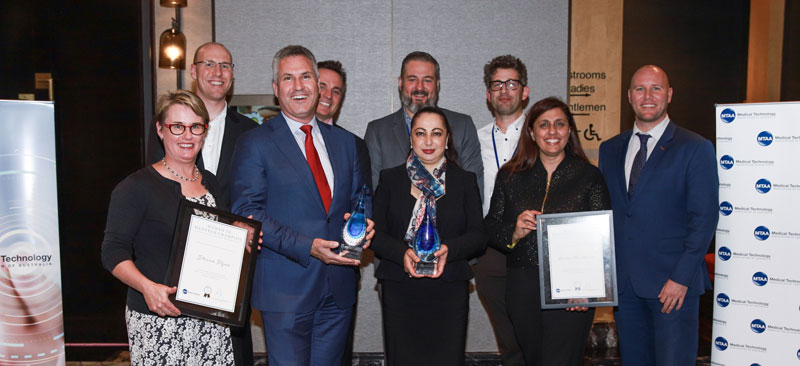 ---
2018 Winners
WiMT Champion Individual Award Winner: Yolanda Mallouhi, Edwards Lifesciences
WiMT Champion Company Award Winner: Baxter Healthcare
---
2017 Winners
WiMT Champion Individual Award Winner: Emma Cleary, Device Technologies
WiMT Champion Company Award Winner: Stryker Australia