MTAA Forums and Working Groups
The role of Forums and Working Groups is to provide an opportunity for interaction between Members with a specific area of common interest.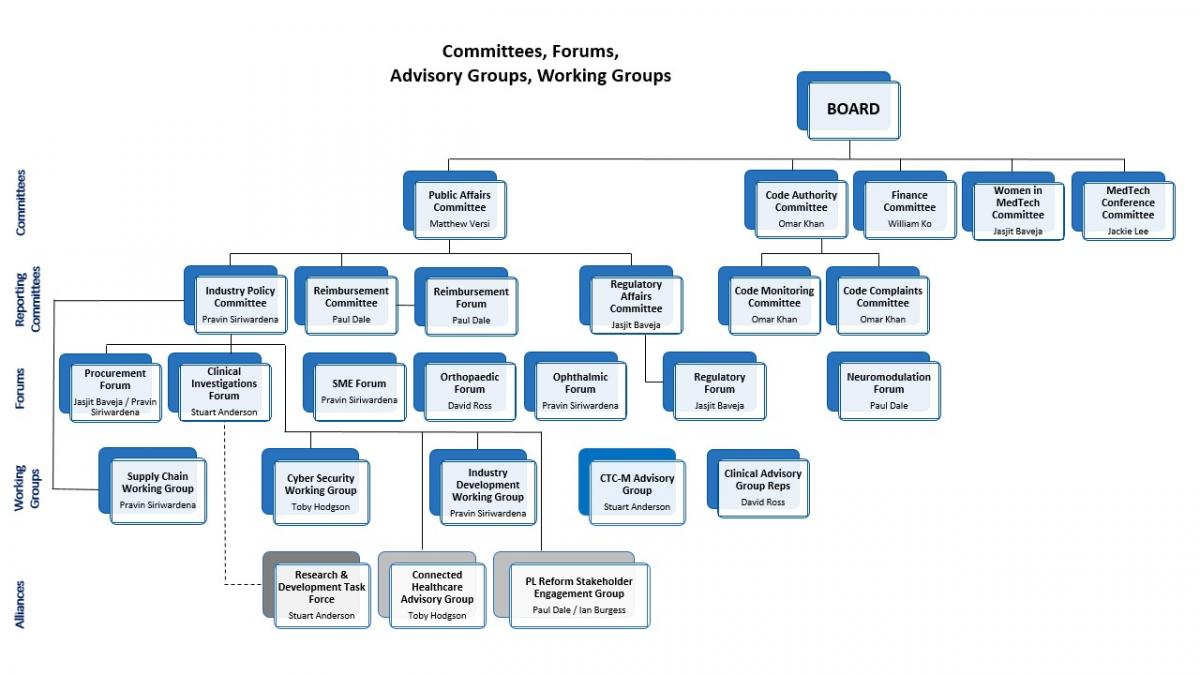 ---
Forums
---
Cardiac Forum
Currently – Prostheses List reform in relation to cardiac implantable electronic devices, engagement with Cardiac Society. Future topics TBD.
---
Neurostimulation Forum
Representative forum for MTAA neurostimulation member companies. Develop policy and advocacy strategies pertaining to neurostimulation products, including on the Prosthesis List; engage with neurostimulation industry stakeholders 
---
Ophthalmic Forum
Representative forum for MTAA ophthalmic member companies. Develop policy and advocacy strategies pertaining to intraocular lens products, including on the Prosthesis List; engage with ophthalmic industry stakeholders 
---
Orthopaedic Forum
The MTAA Orthopaedic Forum is a representative forum for 20 MDs/GMs (or their representative) of MTAA member companies with a special interest in matters relating to the manufacture and supply of orthopaedic devices, such as:  
Prostheses List reforms specifically applicable to orthopaedic implants   
Publication of Special Access Scheme Category C List for Joint Implant Components no Longer in the ARTG
MTAA Orthopaedic Market Survey, covering hips, knees, shoulders, spinal, trauma, sports implants and bone cement which has 17 participating companies.  Aggregated survey data is updated twice per year and is available only to participating companies
Matters of special interest involving MTAA and the Australian Orthopaedic Association are discussed quarterly between the two associations
The MTAA Orthopaedic Forum meets quarterly
---
Procurement Forum
Development of guiding principles for industry procurement; develop and sustain relationships with procurement officials / category managers at state level; determine solutions to offer state officials to harmonise procurement processes 
---
Regulatory Forum
The Regulatory Affairs Forum is an extension of the Regulatory Affairs Committee (member base is large and covers a range of members), and acts as an information-sharing space to ensure the broad membership is covered and issues are passed up to the committee and subsequently to the TGA and RegTech Committee. 
---
SME Forum
Develop policy and advocacy positions for issues relevant to small-medium businesses. 
---
Clinical Investigations Forum (CIF)
The Clinical Investigations Forum comprises of MTAA member companies who conduct Clinical Trials in Australia. The forum allows important information to be shared to ensure arising issues are identified and actioned through the MTAA Industry Policy Committee and the Research & Development Task Force, and acts as an educational conduit amongst the broader MTAA membership. 
---
Human Resources Forum 
The HR Forum was initiated to bring HR advisors in the industry together at the onset of Covid-19 to share ideas about managing the workforce during the Pandemic. The group still comes together to discuss HR issues, ideas and policies.
---
Interest / Working Groups
---
Advertising Working Group
To provide a working group for information sharing and discussion of issues in the advertising space, specifically related to the Advertising Code.
---
Connected Healthcare Advisory Group
The Connected Healthcare Advisory Group is comprised of MTAA members and non-members (including representatives from academic institutions, the Australasian Telehealth Society etc.) and aims to become a partner with the Australian Government to improve Connected Healthcare in Australia and to develop advocacy and policy positions relevant to MTAA members that manufacture medical devices with monitoring capabilities. Click here to read more.
---
Cyber Security Working Group
The Cyber Security Working Group is not currently active, however, has MTAA members involved and is in the process of increasing membership overall and to include external Cyber Security organisations to increase resources and information sharing in the Cyber Security space. 
---
Manufacturing Working Group  
Develop policy and advocacy strategies to support visibility of local manufacturers; engagement with MTAA's co-membership program with APACMed - Start-Up Alliance; engage with external stakeholders on matters affecting local innovators 
---
Research & Development Task Force   
This Task Force is a joint membership of MTAA, MA and AusBiotech members with the goal to work with Government on their various initiatives and to shape the Clinical Trials space in Australia to ensure Australia becomes a preferred location to conduct Clinical Trials. 
---