MTAA Committees
Committees and their members perform a crucial role in supporting the Board and driving the delivery of MTAA's Strategic Plan and delivery of Association policies in matters pertinent to its experience. These Committees provide a vital link between industry members, the Board and MTAA.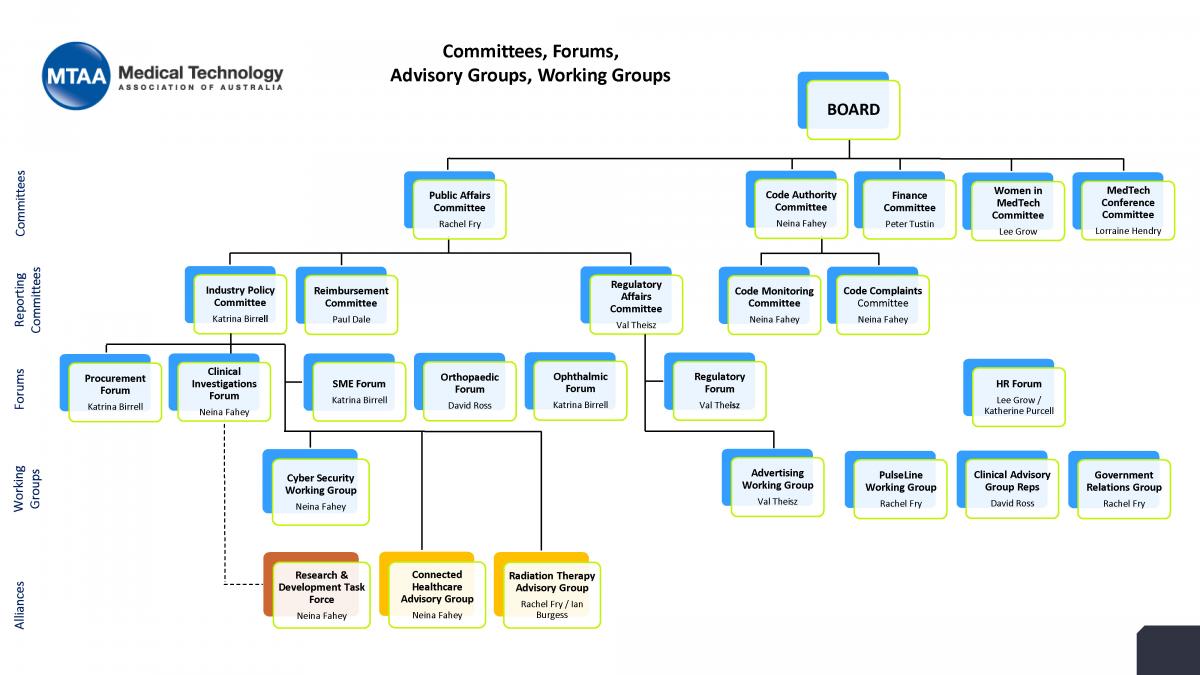 ---
To advocate with a range of stakeholders on the following issues:
Reimbursement;
Regulatory; 
Industry development, sustainability; and 
Healthcare policy.
Oversight of Reimbursement, Regulatory, Industry Committees for coordinated and aligned strategies and communications.
---
To promote initiatives (outside regulatory and reimbursement matters) which impact on industry development and sustainability and healthcare policy.
---
To promote the MedTech industry's access to funding and reimbursement pathways that enable timely public and private market access.
---
To develop industry positions and decide on the strategic direction of MTAA on regulatory matters. Supports, takes direction from and reports to the Public Affairs Committee. Receives input from the Regulatory Forum as appropriate and any matters referred by the Regulatory Forum requiring decision.
---
Responsible for oversight and effective administration of the Code including complaints and monitoring.
---
Reviews company monitoring reports.
---
To assist the Board in the effective discharge of its responsibilities for financial reporting, internal controls, audit, compliance and risk management.
---
To drive and fulfil the WiMT mission.
---
To drive the agenda, sponsorship and attendance of the annual conference that appeals to MedTech industry leaders and executives.
---