MTAA Committees
Committees and their members perform a crucial role in supporting the Board and driving the delivery of MTAA's Strategic Plan and delivery of Association policies in matters pertinent to its experience. These Committees provide a vital link between industry members, the Board and MTAA.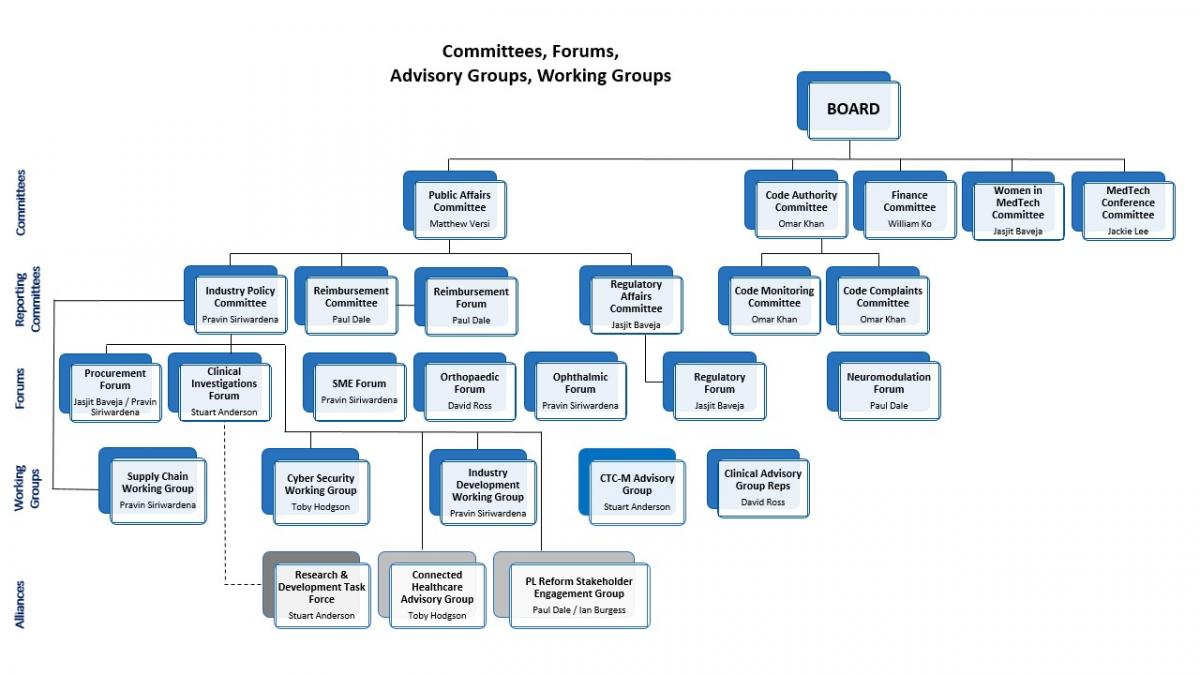 ---
The Public Affairs Committee (PAC) is responsible for providing strategic advice, shared intelligence and coordinated activities to support MTAA's advocacy efforts on behalf of its members. The PAC is currently supporting MTAA's direct engagement and media campaign activities for positive Prostheses List reform, including: providing patient stories, data and insights on the affects of negative reform.  
The PAC is also responsible for overseeing the execution of the Advocacy Strategy and its activities, including active stakeholder engagement the promote priorities of the industry and the strategic issues identified by the PAC's subcommittees: Reimbursement, Regulatory Affairs and Industry Policy. 
PAC members are also tasked with supporting the amplification of MTAA's advocacy content. 
---
Procurement policy and engagement at state level; Value-based Procurement including conference; Digital Health: engagement with the ADHA to influence the national strategy; Commercialisation/manufacturing issues to support local translation of R&D; National Health Reform agreement participation to support 'value & outcomes;' Industry matters that do not relate to the Prostheses List.
---
Prostheses List reform and management issues; MBS reviews; DRGs and public system HTA; reimbursement for devices used in the community. 
---
The Regulatory Affairs Committee is currently working on various regulatory issues, including EU MDR developments, Patient Implant Cards and Patient Information Leaflets (PIC/PIL), Orthopaedic Loan Kits, Spinal Implants, UDI Framework. The committee address these issues through their close relationship and involvement with the TGA and the RegTech committee. 
---
Responsible for oversight and effective administration of the Code including complaints and monitoring.
---
Reviews company monitoring reports.
---
To assist the Board in the effective discharge of its responsibilities for financial reporting, internal controls, audit, compliance and risk management.
---
Women in Medtech committee is working on events to promote and discuss women in Medtech. Develop tools for companies to have more diversity and inclusion in the MedTech industry, the Mentoring program, Women in Medtech Awards and the ignite program which gives school aged girls, the chance to get work placement for a day in Medtech companies. 
---
To drive the agenda, sponsorship and attendance of the annual conference that appeals to MedTech industry leaders and executives.
---