Clinical Trials in Australia
Clinical trials, also referred to as clinical investigations or clinical studies, are systematic investigations in one or more human subjects, undertaken to assess the clinical performance, effectiveness, or safety of a medical device (definition from international standard ISO 14155 Clinical investigation of medical devices for human subjects -- Good clinical practice). 
The Australian Government has developed a website to assist in the conduct of clinical trials for physicians, researchers, and patients, to learn more please visit https://www.australianclinicaltrials.gov.au/
MTPConnect's report Australia's Clinical Trials Sector: Advancing Innovative Healthcare and Powering Economic Growth is a comprehensive overview of the entire clinical trials landscape in Australia. Produced in collaboration with L.E.K. Consulting and funded by the Australian Government under the Industry Growth Centre Initiative, this report includes input from a range of sector participants and stakeholders. 
Clinical trials are an integral part of the research and development of new treatments, interventions or tests, and the refinement of existing standards of care and clinical practices. As such, they are vital to the future of global healthcare.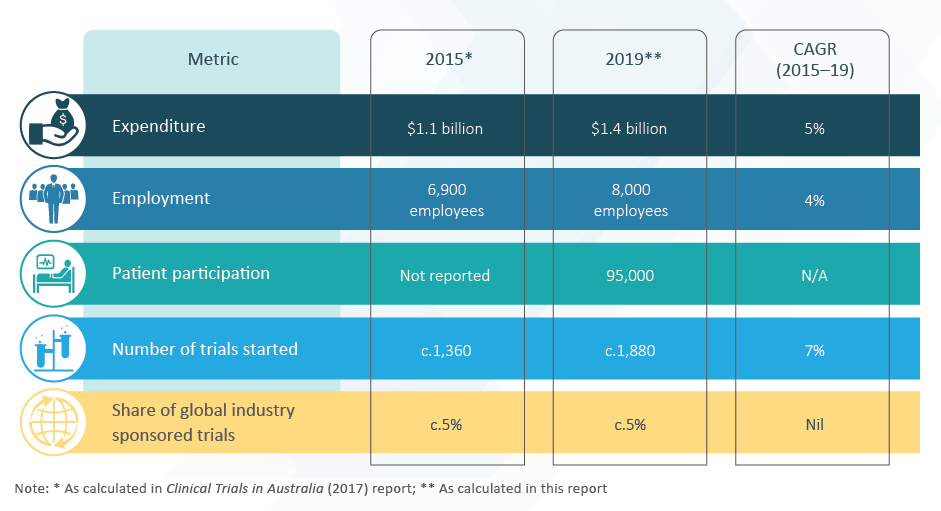 MTAA is a member of the Research and Development Task Force (RDTF), together with Medicines Australia and AusBiotech. MTAA participates in the Clinical Trials Collaborative Forum and the CT:IQ.
MTAA supports the One-Stop-Shop and Front Door policy, both initiatives of the Australian Federal Government. The national One-Stop-Shop was developed by the Clinical Trials Project Reference Group and presents a significant opportunity to achieve a national, interconnected, rapid and streamlined approvals platform.
Download Documents
Guidance for MTAA Abbreviated Curriculum Vitae (CV) Template PDF
Medical Device Clinical Trials in Australia - Call to Action PDF