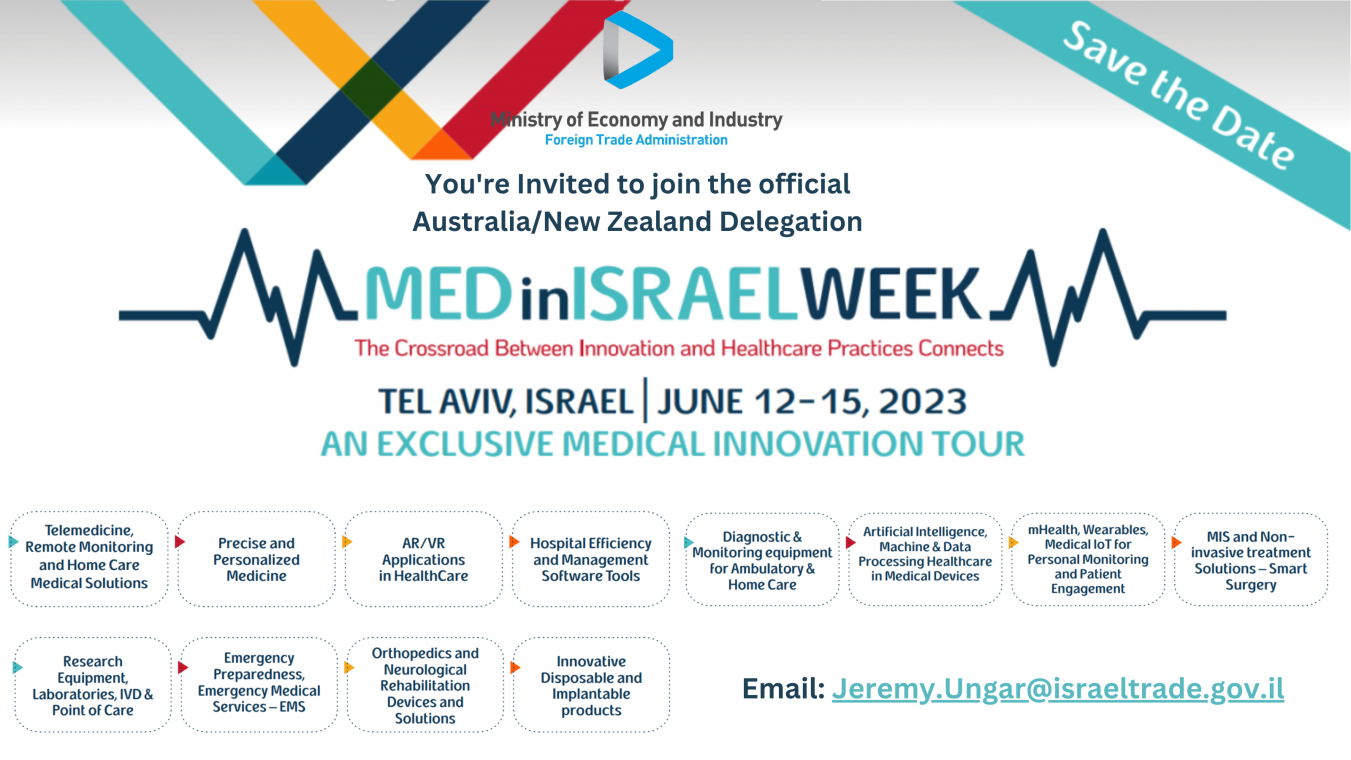 Invite to Join Aust/NZ Delegation to MEDinISRAEL Week
The Israel Trade and Economic Commission in Australia invites MTAA members to participate in MEDinISRAEL WEEK 2023 and join distinguished peers working in the field of Med-Tech who will attend this year's event. 
The Israel Export Institute and the Foreign Trade Administration at the Ministry of Economy and Industry have launched MEDinISRAEL WEEK as the industry's flagship event for the Israeli and the global Med-Tech ecosystem to come together and leverage each other's expertise.
MEDinISRAEL Week 2023 aims to connect Israeli Med-Tech with international industry and healthcare leaders to generate business collaborations and to enhance knowledge sharing.
The event, which will be held on June 12-15, 2023, will include:
Networking Event
Prescheduled B2B Meetings
Knowledge Sharing Seminar
Round Tables
Technology Showcases of leading Israeli companies in the fields of Medical Device & Digital Health and visits to Leading Medical Centers that accelerate and implement Israeli technology and innovation.
Israel is recognised as a global medical innovation and medical excellence hub. The Israeli medical landscape represents a broad spectrum of companies that offer a diverse range of medical products and technologies.
MEDinISRAEL WEEK is a rewarding experience of looking at achievements and state-of-the-art healthcare technologies from Israel. 
To join the event and be part of the delegation please email Jeremy Ungar, Israel Trade and Economic Commission, at Jeremy.Ungar@israeltrade.gov.il.