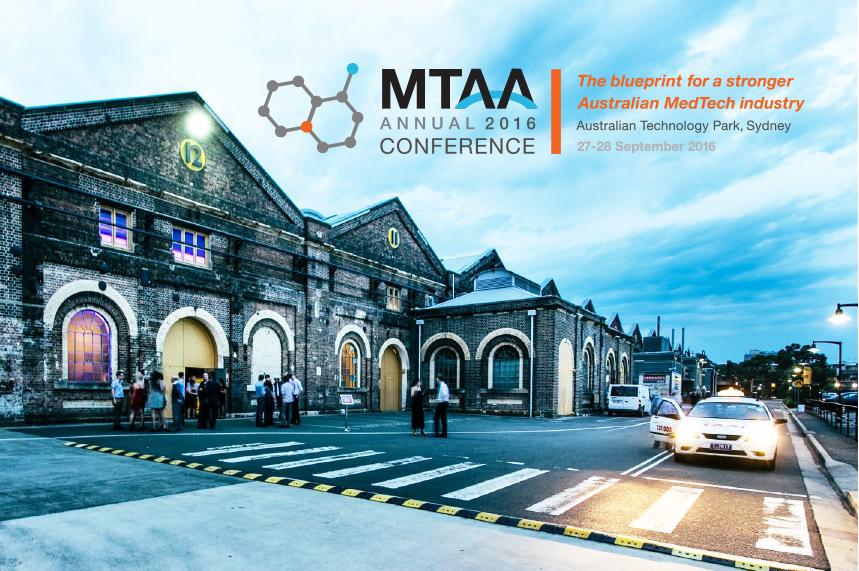 The BluePrint for a Stronger Australian MedTech Industry
More than 200 delegates from around the world will explore ways to make the latest medical technology (MedTech) more accessible for doctors and patients at the 2016 Medical Technology Association of Australia (MTAA) Annual Conference.
The Annual Conference will take place at the Australian Technology Park Eveleigh, Sydney, from 27-28 September and explore themes around developing a blueprint for a stronger Australian MedTech industry. Speakers include:
The Hon Sussan Ley MP, Minister for Health, Aged Care and Sport
The Hon Craig Laundy MP, Assistant Minister for Industry, Innovation and Science
Bill Ferris AC, Chair of Innovation Australia
Dr Les Levin, Chief Scientific Officer EXCITE International
Robert Donnelly, Senior Director, Johnson & Johnson (US)
Steve Sadler, Chief Technical Officer, Tunstall (UK)
Andrew Stuart, Deputy Secretary of the Department of Health
Adj Prof John Skerritt, Deputy Secretary of the Department of Health
Alison Verhoeven, Chief Executive of the Australian Healthcare and Hospitals Association
David Morgan, Chair, Prostheses Listings Advisory Committee
The MTAA Annual Awards Dinner will announce the winners of the Kerrin Rennie Award which acknowledges a company's extraordinary contribution to the Australian medical technology industry.
Other winners to be announced include the Outstanding Achievement Award for an individual's contribution to Medtech and the recipient of the MTAA Life Membership Award.
Gavin Fox-Smith, Chairman of the Medical Technology Association of Australia said:
"Healthcare in Australia is undergoing a fundamental shift in structure and operations.
"The Medical Technology sector is at the forefront of this change as we continue to collaborate broadly with all stakeholders toward achieving the best health outcomes for all Australians.
"Our willingness to contribute in a positive way has been acknowledged as constructive, as is demonstrated by the distinguished speakers focusing on policy and innovation."
Allison Fox, co-lead of the Medical Technology Association of Australia said:
"It is important to keep up with the latest MedTech innovation which is revolutionising healthcare.
"This conference will not only showcase the most recent MedTech innovations from all over the world but provide a forum to exchange idea with industry leaders, local and international.
"The MTAA thanks our sponsors in helping to allow the MedTech industry to showcase their lifechanging technologies."