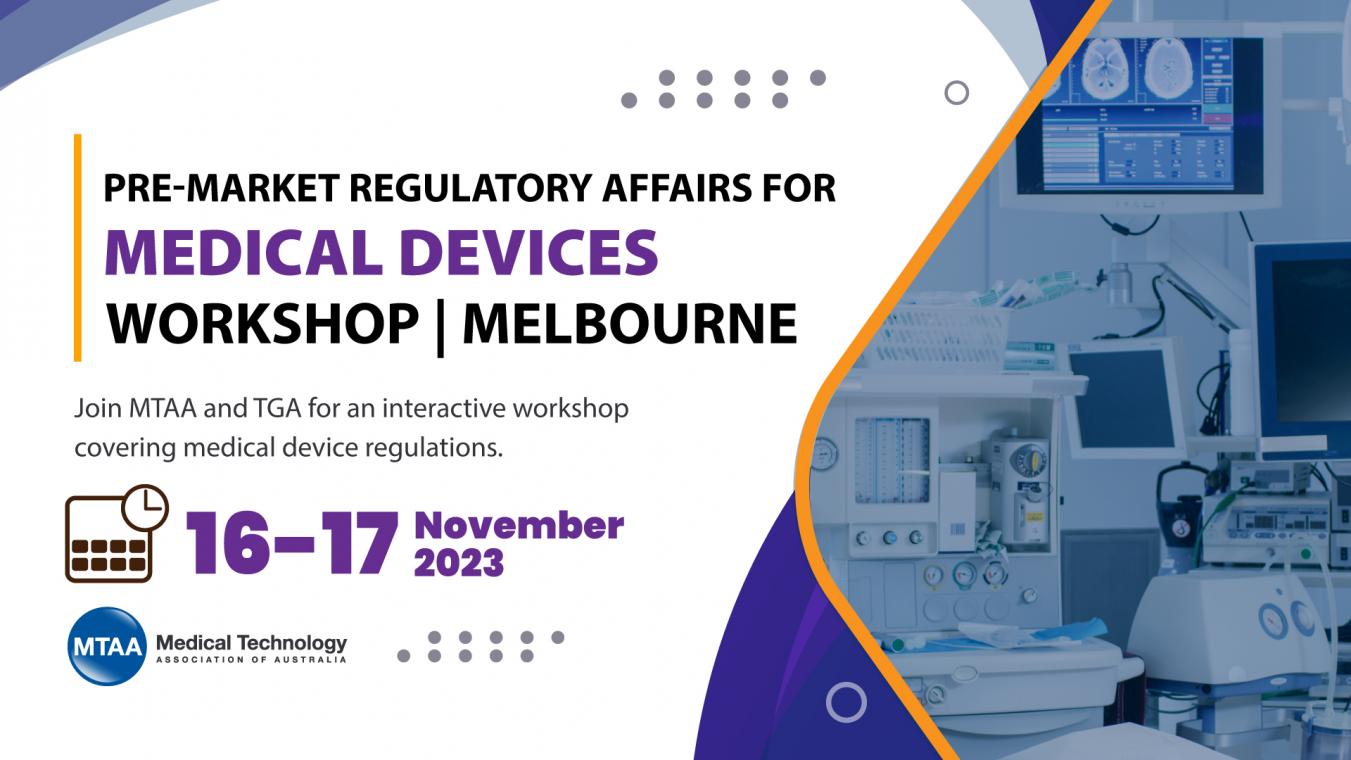 Pre-Market Regulatory Affairs for Medical Devices Workshop - Melbourne 16-17 November 2023
9:00am Thursday, 16 November 2023
5:00pm Friday, 17 November 2023
Cliftons Melbourne Freshwater Place
Level 18/2 Southbank Blvd
Southbank
,
Victoria
3006
Australia
MTAA has organised a two-day workshop with TGA on Pre-Market Regulatory Affairs for Medical Devices Workshop - Melbourne 16-17 November 2023. This interactive workshop will provide detailed coverage of the medical device regulations in Australia.
The workshop will run as two full-day sessions:
Thursday, 16 November from 9:00 to 17:00 AEDT
Friday, 17 November from 9:00 to 17:00 AEDT
Location Cliftons Melbourne Freshwater Place
Inclusions
Morning tea on both days 
Lunch on both days 
Afternoon tea on both days 
Note: This is a face-to-face interactive workshop only with no recordings available. Placements are strictly limited to 35 attendees and the class size will not be extended to ensure the best learning experience.
---
Learning outcomes
Basics of Australian Medical Device Regulations and TGA structure and personnel
QMS requirements – ISO 13485, MDSAP
Intended use and classification of Medical Devices
Market authorisation - EU & FDA
Leveraging comparable overseas regulator approvals for TGA applications
TGA applications, variation applications, and application audits – best practice guidelines for a good submission
TGA CA applications - best practice guidelines for a good submission
Essential Principles, Risk Management, and Clinical Evidence Requirements
Case studies
Most recent regulation changes and impacts
Q&A with TGA
Who should attend? 
Regulatory professionals should attend the training. 
How much does it cost? 
$1,980 Inc. GST for members
$2,574 Inc. GST for non-members
---
"The courses I've taken in the past haven't been as interesting or as comprehensive as this workshop on medical device regulatory affairs. The MTAA has established a direct line of communication between us and experienced and properly trained TGA personnel so that they can answer any questions that may arise. TGA access has made a real difference in understanding the ever-changing medical device regulatory environment. I was happy to suggest my colleagues to take this course in the future. Many thanks to MTAA and TGA for organising this workshop." - Freddy Torres, Pharmacovigilance Associate, Merz Australia Pty. Ltd
---
Additional Information
Changes & cancellations
Click here to view the MTAA Events and Facilitated Training Terms and Conditions.
Tax invoice
You will be emailed a paid tax invoice once payment is complete. A copy of all your transactions are also available in your Transaction History tab on your My MTAA Account and can be viewed here anytime.