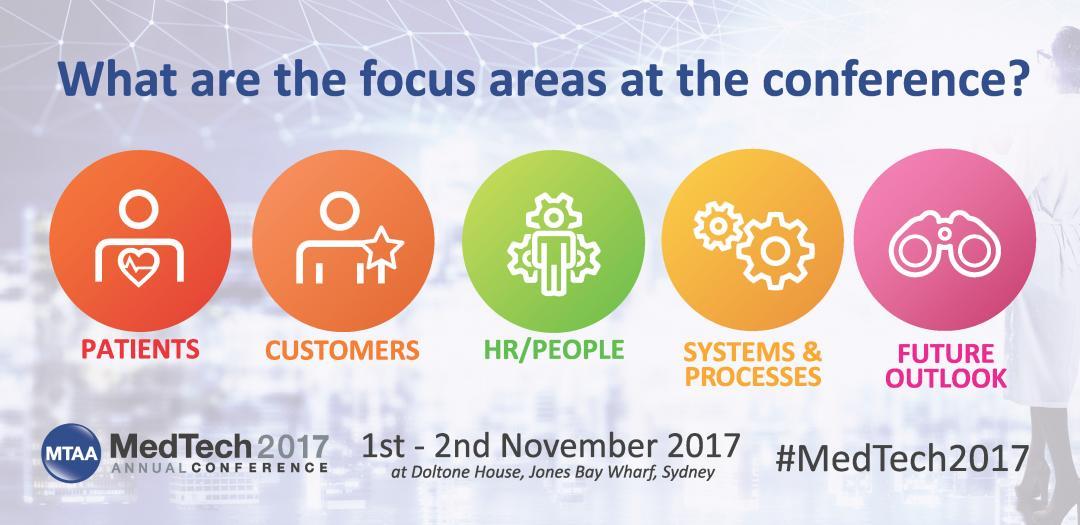 Less than 60 days until MedTech2017
The Medical Technology Association of Australia (MTAA) Annual Conference is less than 60 days away. MedTech2017 will be take place on the 1st and 2nd November at Doltone House, Jones Bay Wharf, Sydney.
The theme this year is the "Value of Medical Technology to a Healthier Australia" and is shaping up to be one of the most outstanding yet with an impressive line-up of national and international speakers.
The Conference provides a unique opportunity for industry professionals to gather and exchange ideas and insights with their peers and other leaders within the medical technology community.
Highlighted sessions from each of the themes include:
Customer – Artificial Intelligence in Healthcare the Here and Now: Recently, IBM Watson launched a special AI-enabled cancer program for oncologists to provide an advanced ability to analyse massive data in clinical notes critical to selecting a treatment pathway. What opportunities exist for MedTech companies to take advantage of this? And what will it mean for patients?
Patient – Private Health Insurance reform: The Federal Government has made reform of the private health sector a priority, amid concerns about declining participation. The issue has been the subject of multiple Senate inquiries and broader public debate. It is a contested debate with strong stakeholder views and many vested interests.
Systems – The Future Buyers, does valued-based healthcare have a place? In the global struggle to manage the cost of health care, practitioners and policymakers are increasingly focusing on value—delivering the best possible health outcomes at a given level of cost. There is growing momentum towards transforming today's health care systems into Value-Based Health Care (VBHC) Systems.
Future of healthcare – How Blockchain will transform healthcare in 25 Years: Blockchain represents tremendous value for the healthcare space, because it essentially moves away from the mistake-prone, documentation-centred approach to a flexible process where the transaction is key.
Human Resources – Tomorrow's Jobs: Today, we are at the beginning of a Fourth Industrial Revolution. Developments in genetics, robotics, nanotechnology, 3D printing and biotechnology. For healthcare practitioners, for example, technological innovations will allow for increasing automation of diagnosis and personalisation of treatments, redefining many medical roles. How will technology transform the MedTech workforce skills by 2030?
The full program is now available at the Medtech2017 website
The MTAA Annual Awards Dinner will announce the winner of the 10th Kerrin Rennie Award which acknowledges a company's extraordinary contribution to the Australian medical technology industry.
Other winners to be announced include the Outstanding Achievement Award for an individual's contribution to Medtech and the recipient of the MTAA Life Membership Award.
This year we launch the inaugural winner of the Women in MedTech Champion.
Ian Burgess, Chief Executive Officer of the Medical Technology Association of Australia said:
"It is important to keep up with the latest MedTech innovation which is revolutionising healthcare."
"This conference will not only showcase the most recent MedTech innovations from all over the world but provide a forum to exchange idea with industry leaders, local and international."