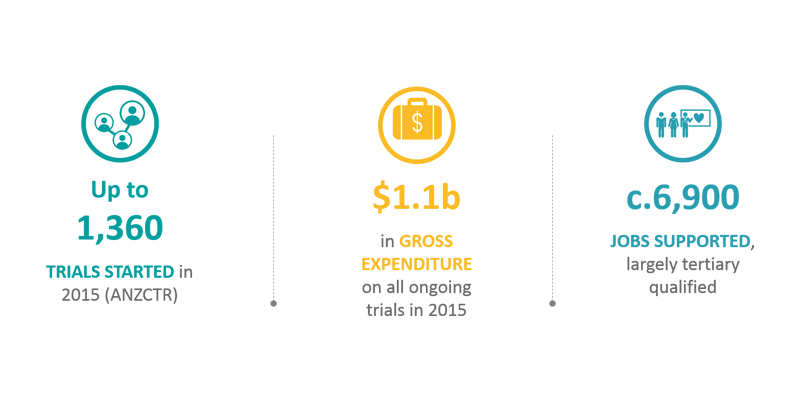 Medical Technology sector welcomes MTPConnect Clinical Trials report
The Medical Technology Association of Australia (MTAA) welcomes the MTPConnect Clinical Trials report published today.
The report highlights the significant contribution clinical trials makes to the Australian economy, shows we have a competitive advantage on a global level and details how we can grow into the future.
Key findings of the report include:
The Australian clinical trials sector is large and growing. Approximately 1,360 new clinical trials were commenced in Australia in 2015, and this figure has been growing at roughly 5% per year since 2010, outpacing the US, the UK, and the overall global average growth rate.
Investment in active clinical trials accounted for roughly $1.1 billion in gross expenditure in 2015. This includes approximately $930 million invested by industry sponsors, the large majority of which are international medical device, biotechnology and pharmaceutical companies that have chosen to invest in Australia.
The Australian clinical trials sector supported at least 6,900 high skilled jobs in 2015, the large majority requiring tertiary education levels
Last month, MTAA held a clinical trials forum where over a hundred of the brightest minds in clinical research across industry, healthcare providers, government and beyond met to review the current environment.
Ian Burgess, Chief Executive Officer of the Medical Technology Association of Australia said:
"We welcome this report and MTAA will work with industry to overcome the impediments identified to ensure a vibrant and dynamic clinical trials sector for Australia.
"We know innovation in medical technology is at the forefront of better quality of life for patients, better health outcomes and reduced healthcare costs. 
"We're pleased data in the report shows trials involving medical devices have grown by 13% between 2010 and 2015.
"Our industry is highly skilled with over 52% of employees having a tertiary qualification, and 25% having a postgraduate qualification.
"Australia has many of the right attributes to grow the sector but we remain concerned changes to the 457 skilled visas could have unintended consequences and have been working with Government to rectify this issue."