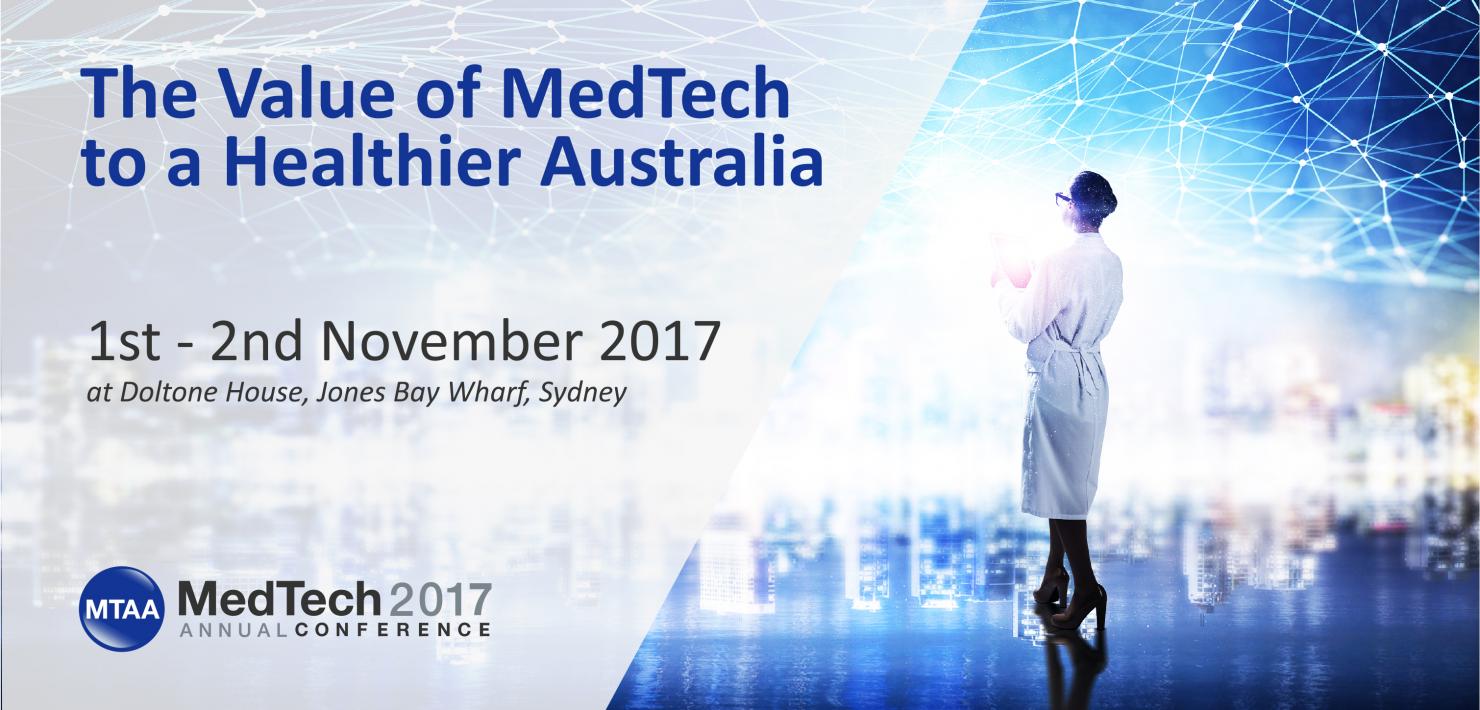 MedTech Conference for a healthier Australia kicks off next week
More than 300 medical technology (MedTech) leaders will converge on Sydney next week for the Medical Technology Association of Australia (MTAA) Annual Conference.
MedTech2017 will be take place on the 1st and 2nd November at Doltone House, Jones Bay Wharf, Sydney.
The theme this year is the "Value of Medical Technology to a Healthier Australia" and is shaping up to be one of the most outstanding yet with an impressive line-up of national and international speakers.
The Conference provides a unique opportunity for industry professionals to gather and exchange ideas and insights with their peers and other leaders within the medical technology community.
MTAA Annual Awards Dinner will announce the winner of the Kerrin Rennie Award which acknowledges a company's extraordinary contribution to the Australian medical technology industry.
Other winners to be announced include the Outstanding Achievement Award for an individual's contribution to Medtech and the recipient of the MTAA Life Membership Award.
This year we launch the inaugural winner of the Women in MedTech Champion.
Key Speakers:
Liz Broderick AO, former Sex Discrimination Commissioner
Dr Dora Hughes, Former Health Advisor to President Barack Obama (US)
Hon Dr David Gillespie MP, Assistant Minister for Health
David Thodey AO, Chair CSIRO and Jobs NSW and former CEO of Telstra & IBM ANZ
Other Speakers:
Andrew Charlton, Director Alphabeta Advisory
Glenn Cross, CEO of AusBiotech
Paul Cross, Editor of Pharma Dispatch
Senator Sam Dastyari, Senator for NSW
Dr Rachel David, CEO of Private Healthcare Australia
Sue Dunlevy, National Health Editor at News Corporation
Richie Etwaru, Chief Digital Officer at QuintilesIMS (US)
Dr Bronwyn Evans, CEO, Standards Australia
The Hon Brad Hazzard MP, NSW Minister for Health and Medical Research
Sue MacLeman, CEO of MTPConnect
Janet Menzie, General Manager, Cochlear
Michael Roff, CEO of Australian Private Hospitals Association
Penny Shakespeare, Department of Health Deputy Secretary
Adj Prof John Skerritt, Department of Health Deputy Secretary
Alison Verhoeven, CEO of Australian Healthcare & Hospitals Association
Trent Zimmerman MP, Federal Member for North Sydney
Ian Burgess, Chief Executive Officer of the Medical Technology Association of Australia said:
"Global advances in medical technology over the past 20 years have resulted in a 56% reduction in hospital stays, 25% decline in disability rates, 16% decline in annual mortality and increased life expectancy of approximately 3.2 years.
"At the heart and soul of the medical devices industry are 19,000 dedicated professionals, committed to making a positive difference to patients' lives through medical technology.
"And so, it's important to keep up with the latest MedTech innovation which is revolutionising healthcare.
"This conference will not only showcase the most recent MedTech innovations from all over the world but provide a forum to exchange idea with industry leaders, local and international."