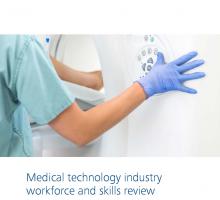 Purchase includes
Domesitic postage of 1 x Printed 95 page publication
A free pdf version is available to download from our website, or pick up your free copy from our office in North Sydney.
contact MTAA on 02 9900 0600 for international postage quotation.
Report commissioned by the Medical Technology Association of Australia (MTAA) on behalf of the NSW Medical Technology Knowledge Hub. The nature of the MedTech industry means that the workforce is required to be highly skilled, educated and flexible. Using a three-pronged approach including an industry survey, one-on-one consultations and workshops across Australia, the study found that there is a gap between the levels of current employment and desired employment in the industry. The report addresses the where and why of the current skills gap, How it is being addressed and likely future impacts of the gaps. Finally it provides recommendations to address the skills gap.
Availability:
Usually ships in 2-3 days.