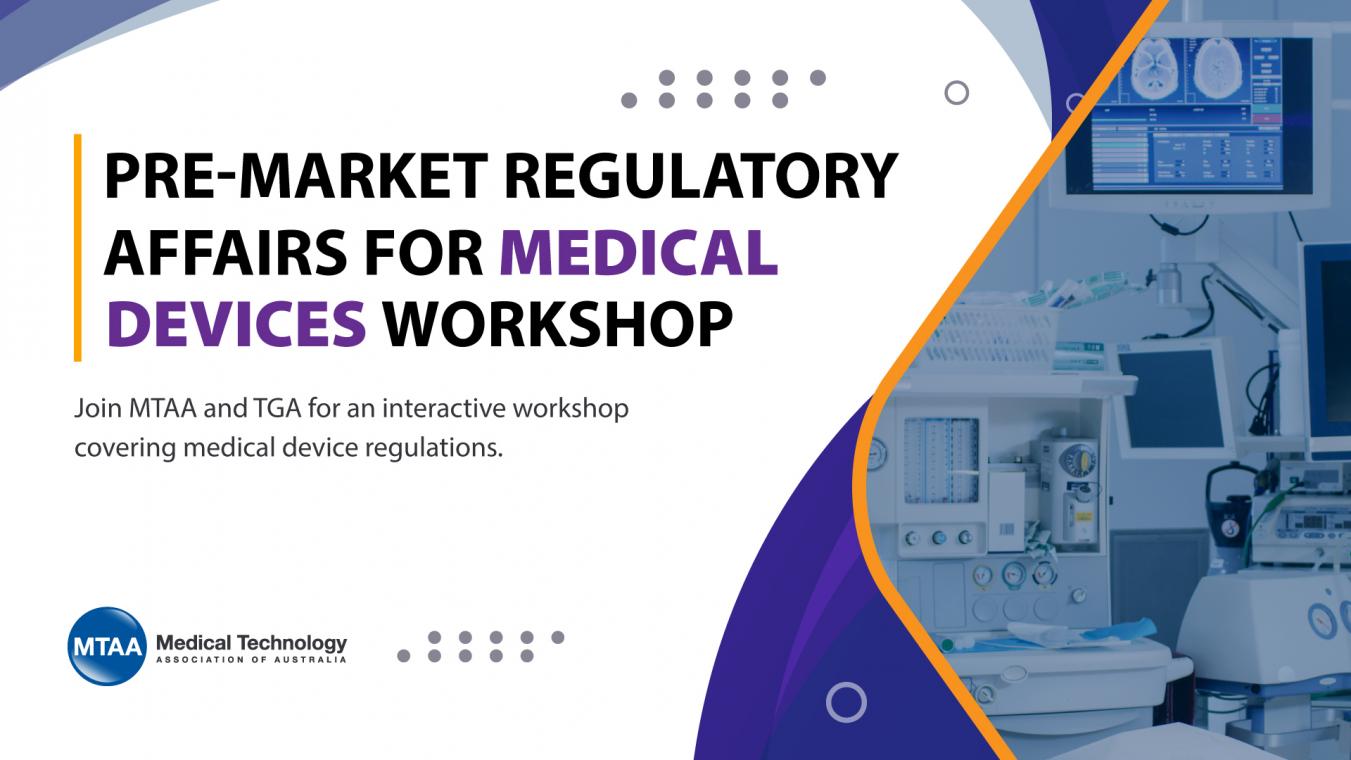 2023 Waitlist - Pre-Market Regulatory Affairs for Medical Devices Workshop
9:00am Monday, 1 May 2023
5:00pm Wednesday, 31 May 2023
MTAA has organised for a series of two-day workshops on Pre-Market Regulatory Affairs for Medical Devices Workshop with TGA in 2023. These interactive workshops will provide detailed coverage of the medical device regulations in Australia.
We will be hosting these workshops in three different cities including Brisbane and Sydney. The final destination as well as exact dates of each workshop confirmed to those on the waitlist and RAF (Regulatory Affairs Forum) first. Note: These will all be face-to-face interactive workshops with no recordings available. Placements are strictly limited to 35 attendees and the class size will not be extended to ensure the best learning experience. 
Each workshop will run as two full-day sessions:
Day One from 9:00 to 17:00 AEST
Day Two from 9:00 to 17:00 AEST
Inclusions:
Morning tea on both days 
Lunch on both days 
Afternoon tea on both days 
---
Learning outcomes
Basics of Australian Medical Device Regulations and TGA structure and personnel
QMS requirements – ISO 13485, MDSAP
Intended use and classification of Medical Devices
Market authorisation - EU & FDA
Leveraging comparable overseas regulator approvals for TGA applications
TGA applications, variation applications, and application audits – best practice guidelines for a good submission
TGA CA applications - best practice guidelines for a good submission
Essential Principles, Risk Management, and Clinical Evidence Requirements
Case studies
Most recent regulation changes and impacts
Q&A with TGA
Who should attend? 
Anyone interested in learning more about Regulatory and who would benefit from the opportunity to ask TGA questions directly should attend the training. 
Additional Information
Changes & cancellations
Click here to view the MTAA Events and Facilitated Training Terms and Conditions.
Tax invoice
You will be emailed a paid tax invoice once payment is complete. A copy of all your transactions are also available in your Transaction History tab on your My MTAA Account and can be viewed here anytime.